Introduction
Introduction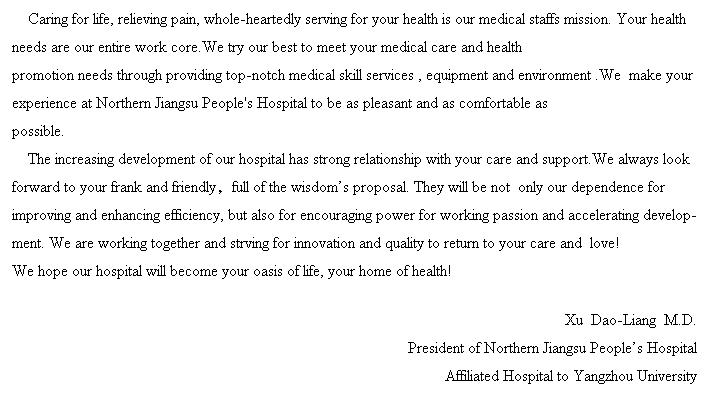 Introduction to Northern Jiangsu People's Hospital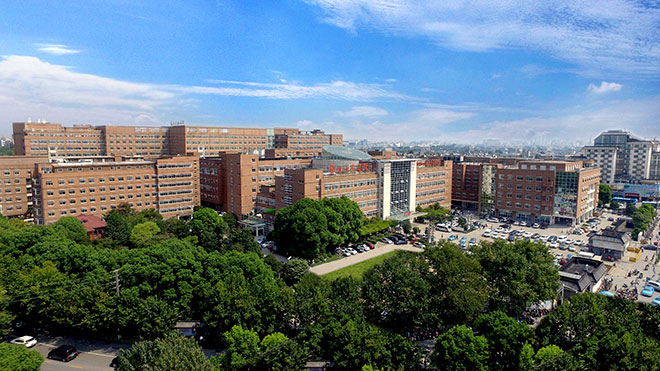 Northern Jiangsu People's Hospital (NJPH), also named as Affiliated Hospital to Yangzhou University, Clinical Medical School of Nanjing Medical University. Its predecessor was a Baptist hospital founded in 1900. It was authorized as the first group of "Tertiary Level Class A" hospitals of Jiangsu Province with other 8 hospitals in 1994, and was the Ministry of Health International Emergency Assistance Center Network Hospital. It has successively obtained "National Civilized Units", "Advanced Collectives of National Health Systems", "National Reform and Innovation Hospitals", "National Model Units for Improved Medical Services", "Advanced Collectives for National Medical Insurance Management", "Advanced Collectives for National Women's Achievements", "Advanced Units for National Hospital Logistics Management Innovation", "Top Ten Hospitals in Jiangsu Province", etc.
At present, NJPH has more than 2,300 open beds. It takes the responsibilities of the medical treatment, prevention, healthcare and rehabilitation for Yangzhou
and surrounding areas. In 2017, there were 1.723 million inpatients, 105,000 discharged patients, and 46,000 operation patients. The hospital has fixed assets more than 1.8 billion Yuan, and the total equipment value exceeds 700 million Yuan, including PET-CT, gem CT, 64-slice CT, 1.5T/3.0T fiber-optic MRI, DR, DSA, SPECT, mammography, and rotating volume Intensive linear accelerator, automatic biochemical assembly line, sorting flow cytometer, DNA gene analyzer , Multi-dimensional color Doppler ultrasound, intravascular ultrasound system, ultrasound electronic gastroscopy, three-dimensional electrophysiological mapping system, excimer laser therapy instrument, laser confocal microscope, surgical navigation system etc. There are nearly 100 sets large-scale equipment worth more than 100 million Yuan. There are more than 950 units worth more than 100,000 Yuan, such as flow cytometer, gene chip analyzer, extracorporeal lithotripsy, extracorporeal circulation machine, digital high-definition laparoscope, hysteroscope, ventriculoscope, arthroscope, intervertebral disc microscope, surgical microscope, anesthesia workstation, ventilator etc.
The hospital currently has 2,508 employees, 2,276 professional technicians and 533 senior professionals, including 144 medical doctors and 560 masters. The Stroke Center of the Hospital became the national top ten advanced stroke center. The chest pain center was certified by the Chinese chest pain center; the general surgery was the provincial key discipline, and the orthopedics was the provincial innovation team. There are 19 provincial-level clinical specialties, such as obstetrics and gynecology, general surgery, orthopedics, gastroenterology, hematology, neurology, cardiology, urology, thoracic surgery, anesthesiology, medical imaging, intensive medicine center, respiratory medicine, medical laboratory, neurosurgery, nephrology, rheumatism and immunology, rehabilitation, pathology and so on. And there are 20 municipal-level clinical specialties, 23 professional clinical trials and 6 endoscopic training bases. It is a national post-doctoral scientific research station, a training base for doctors and masters of key universities such as Central South University and Jilin University, and a MOH key contact unit of the National Demonstration Project of Quality Nursing Services.
The library has an area of more than 800 square meters. It has a periodical reading room and an electronic reading room. It has more than 60,000 Chinese and foreign language books and more than 500 Chinese and foreign language periodicals. It has a Chinese and foreign literature database with full text available.
The Western Branch Hospital (No. 3 Hospital) is the only tertiary infectious disease hospital in Yangzhou, covering an area of 58815 square meters and a building area of 25300 square meters. At present, the hospital has 260 employees and 300 open beds. There are clinical departments such as internal medicine, surgery, tuberculosis, liver disease, and infectious diseases. It is "Yangzhou University Medical College Teaching Hospital", "multidrug resistant tuberculosis designated treatment hospital" of Jiangsu HFPC. There are 5 key clinical medicine specialties, such as department of TB, liver diseases, infectious diseases, medical laboratory, medical imaging and other departments.
The Eastern Branch Hospital (Hongquan Hospital) is a private hospital, fully subordinated to the Northern Jiangsu People's Hospital , and is located in Jiangdu District, Yangzhou City. It is a large-scale Class II Grade A non-profit hospital, affiliated to the Medical College of Yangzhou University. The hospital covers an area of 240 acres, and the medical housing and supporting facilities are 80,000 square meters. It integrates medical treatment, teaching, and scientific research, and has a number of advanced imported medical equipment of the provincial level. The 16-storey building has an area of 30,000 square meters and has 810 beds in the first phase. The hospital has nearly 700 professional and technical personnel at various levels, including more than 50 doctoral or master's degrees, and more than 100 professional titles.
In April 2015, under the leadership of the municipal party committee and government, the Northern Jiangsu People's Hospital Medical Group was established. Currently, it has administered Gaoyou People's Hospital, Yizheng People's Hospital, Guangling District Tangwang Community Health Service Center, Gaoyou High-tech District People's Hospitals, Hanjiang District Fangxiang Hospital, Yizheng Xinji Hospital, total 27 member units. Through its own brand and the output of medical, nursing, and management teams, Northern Jiangsu People's Hospital has vigorously promoted the construction of medical joint group, achieved the effective sharing of quality medical resources in the region, significantly improved the service capacity and management level of primary hospitals, and significantly increased the operating efficiency of primary hospitals. In 2017, the growth of outpatient visits, hospitalizations, and surgeries of medical centers in rural areas was 11.78%, 15.2%, and 11.66%, respectively.